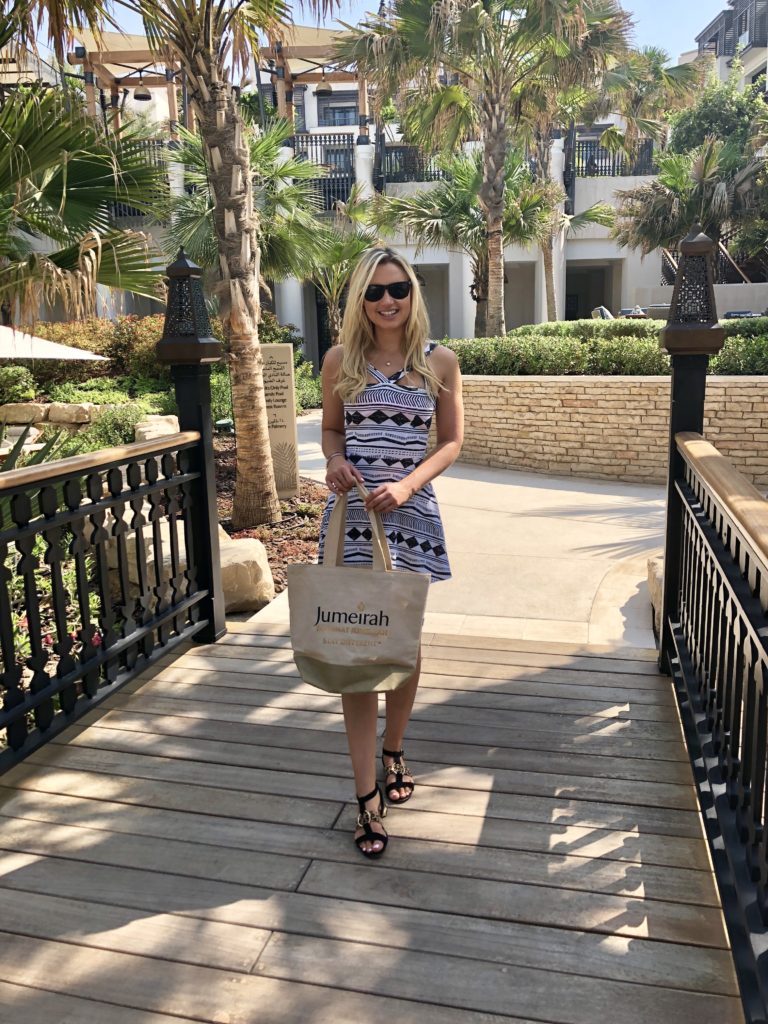 Where do I start, one of my favorite holiday destinations, amazing food, weather, service, no crime, relatively short flight time from London and I have the best time when I go with both friends and family. Not to mention my last trip being an extra special one, where my fiancé proposed!
My family has visited every year for the last 6 years, which I've always tried to tag along too, and have visited a handful of times with friends. I have stayed at many hotels but the group I always end up going back to is Jumeriah. With the last few times staying on the palm at the Jumeriah Zabeel Saray I wanted to try out their latest addition, Jumeirah Al Naseem. They take luxury to another level, from the moment you leave the airport, opting for a hotel transfer in one of their beautiful cars, you feel like royalty, and they also have Wi-Fi in their cars, a phone enthusiast's dream haha.
Food! One of the most important things to me, food is there to be enjoyed especially when on holiday! They are beyond accommodating for a free-from diets and most dishes have delicious healthier twists.
If you opt for the Jumeirah Flavours; which is their half board offering, something we always do as it works out great value for money then you have the full breakfast buffet option and can dine in all of the groups restaurants, with every cuisine option possible; over 60 world-class restaurants across Dubai!! My top 3 favourites being;
– Segreto Italian is such a beautiful setting nestled within the resort's waterway you can get there on one of the hotels abra boats. Their menu is fine dining Italian and is a really romantic setting too.
– Pai Thai is amazing Thai food with an extensive menu filled with all the traditional dishes; again every restaurant has numerous free-from options. Just getting to these restaurants is rather magical; it feels like they have brought a little bit of Venice to Dubai. Adam actually proposed on the abra boat, you can see in the photo 🙂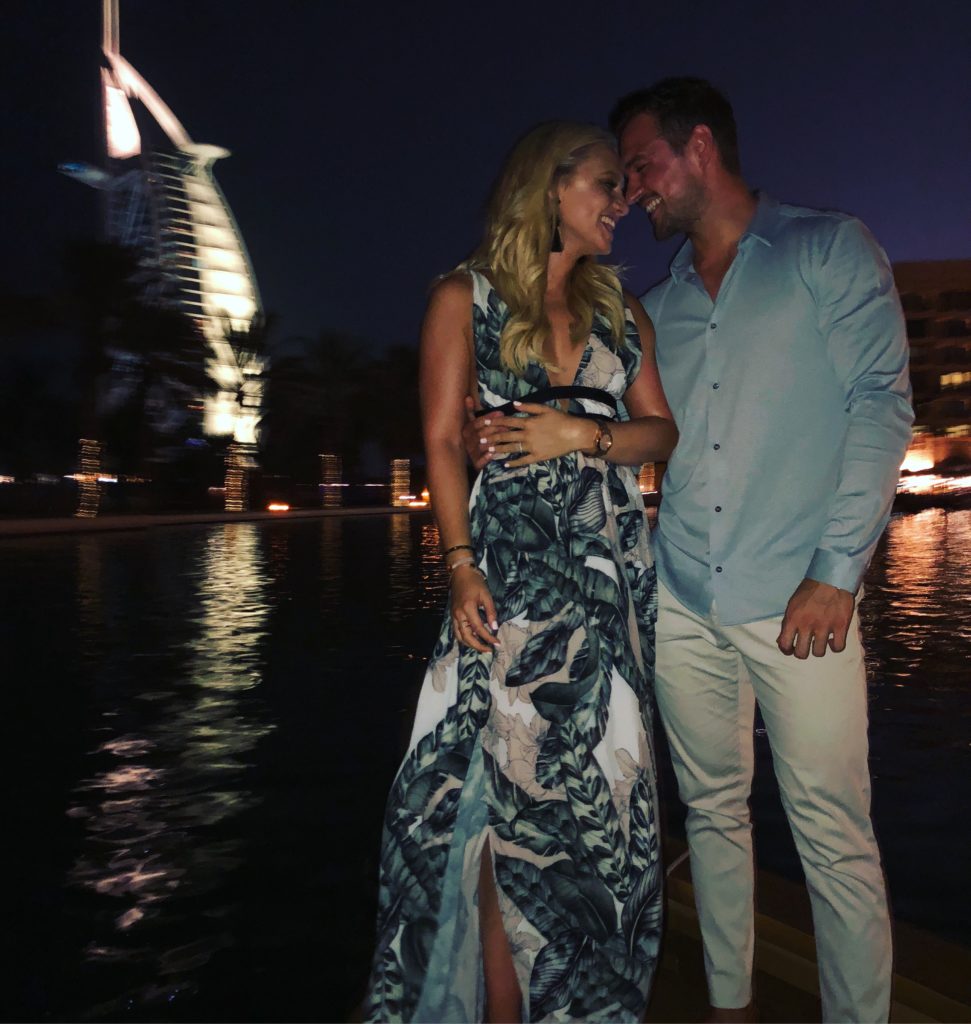 Rockfish- my new favourite for breakfast and delicious seafood dishes which is right on the beach, they also do a spectacular brunch on a Friday and the interior is serous house goal!
The food photograph above was from their 'Kalsa Pool bar' restaurant which is by the family pool.  They had so many tasty salads and healthy dishes we ate there most days!
You can also find Nobu, Zuma and Hakkasan in Dubai too, which are lovely for a special occasion! Next time I visit I need to make sure I go to their world famous brunch, will just need to book an extra seat for the way home!
The Dubai mall is the largest shopping centre in the world, and it's also tax-free! You can go shopping within the madinat if you don't want to venture out; they have a traditional souk with everything from boutique shops to a Holland and Barrett!
They ready don't do things by half; you may have heard about the Burj Khalifa which is a mega tall skyscraper being the tallest structure in the world. I keep saying I will go up there next time, but I'm actually quite scared of height's so for the time being I'll stick to cocktails in the Burj Al Arab, which is part of the Jumeriah group so you can go and visit the bar, I believe it's a 7 star hotel making it one of the worlds most luxurious hotels, it is rather stunning so I can understand why!
My favorite kind of exercise on holiday is to swim, and go paddle boarding (which you can do as the sea is usually really calm). However they have a few beautiful spas and a fitness centre, the gym at Madinat is a fitness fanatics dream with indoor and outdoor workout spaces, ample amounts of equipment and classes so it usually encourages me to go a few times.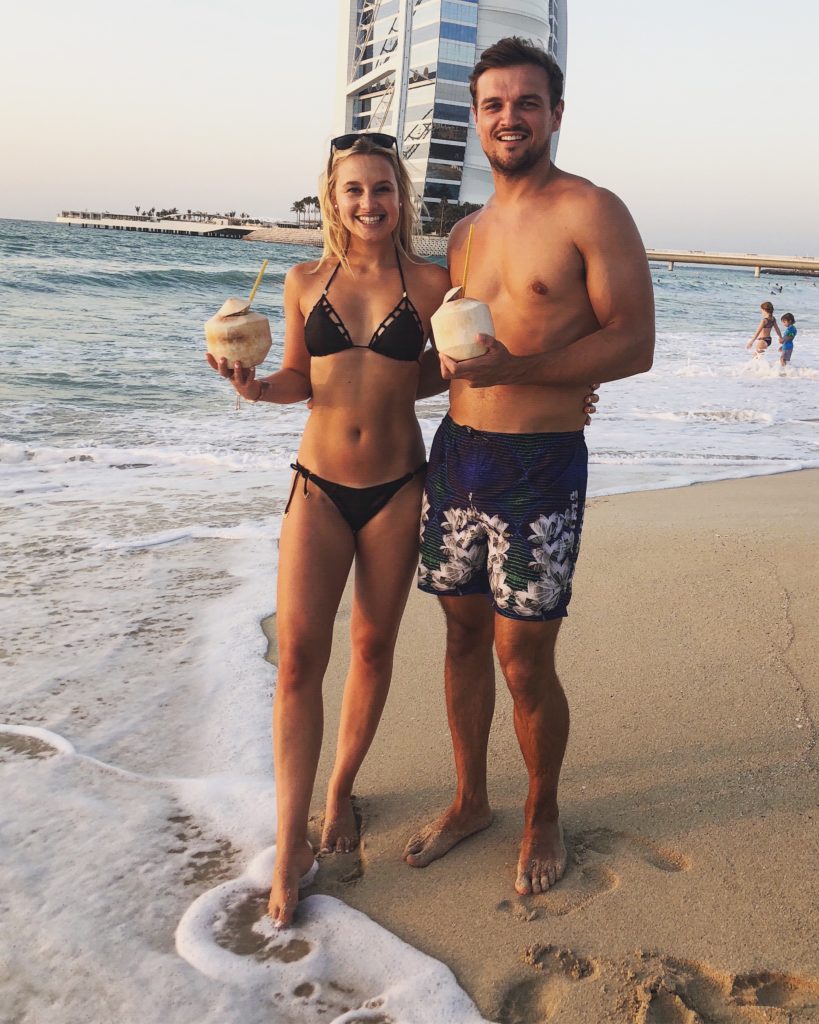 I'm really struggling to find a bad work to say about it, can you understand why…?
You can find out more about Jumeirah Al Naseem by clicking here and i'm happy to answer any questions you might have too.
Tess x