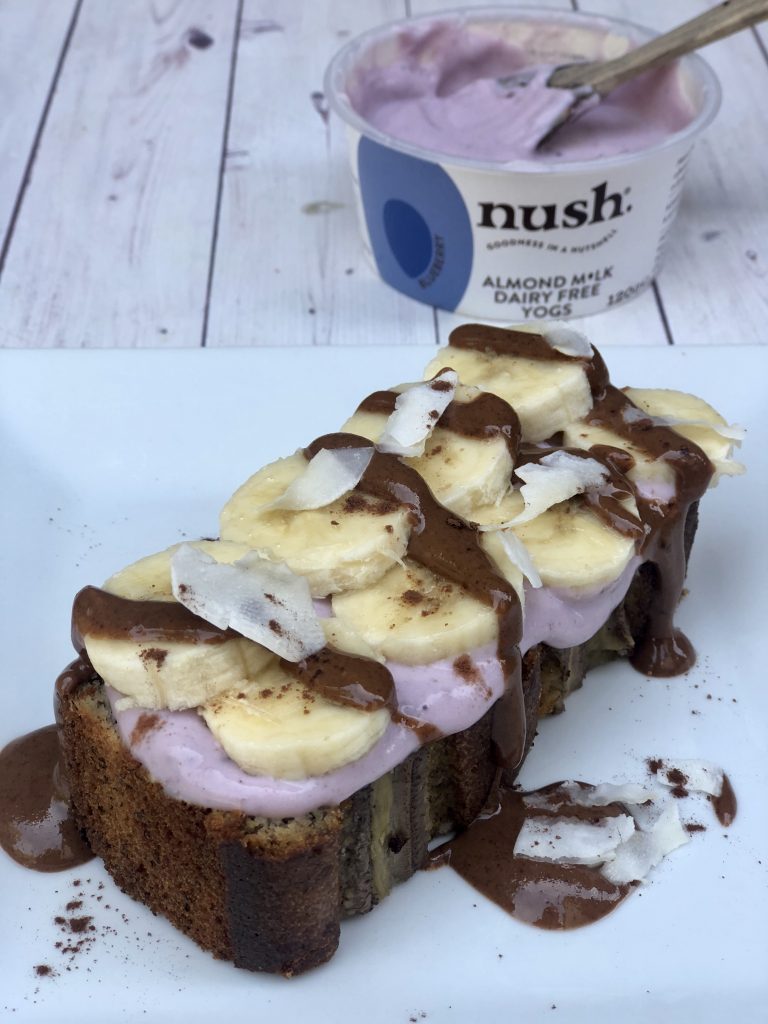 A delicious yet simple Paleo Banana Bread that is free from dairy, gluten, grains and refined sugar. Served here with Nush almond yogurt, coconut flakes, sliced banana & a drizzle or 2 of nut butter.
INGREDIENTS
Wet
3 Very ripe bananas (+ 1 fresh for the top)
2 Eggs (I used St Ewe Boost the Roost)
1/4 Cup maple syrup
1/4 Cup melted coconut oil
1 tsp Vanilla extract
Dry
2 cups Almond flour
½ cup Tapioca flour
1 tsp Baking soda
1 tsp Cinnamon (+ extra to sprinkle on top)
¼ tsp Salt
Toppings
Blueberry Nush Almond Yogurt
Sliced banana
Coconut chips
Nut Butter (I used Pip & Nut Chocolate Hazelnut)
METHOD
1. Pre heat the oven to 180*c & lightly oil a non stick loaf pan or line with parchment paper
2. Mash the bananas, add in the rest of the wet ingredients then transfer into a large bowl that contains all the dry ingredients.  Combined together, you can use a hand mixer on a medium speed until well combined, or a fork just don't over mix.
3. Pour the mix into the loaf pan, place on the pealed banana cut in half  lengthways on the top (add the sprinkle of cinnamon powder). Bake for approx 50 minutes, to see if cooked, use a tooth pick to test if it comes out clean if not cook for a further 10 minutes/ until done.  Leave to cool for 30 minutes before removing from tin.
ENJOY, it is delicious x
Eggs available from Ocado & Nush from Waitrose Supermarket