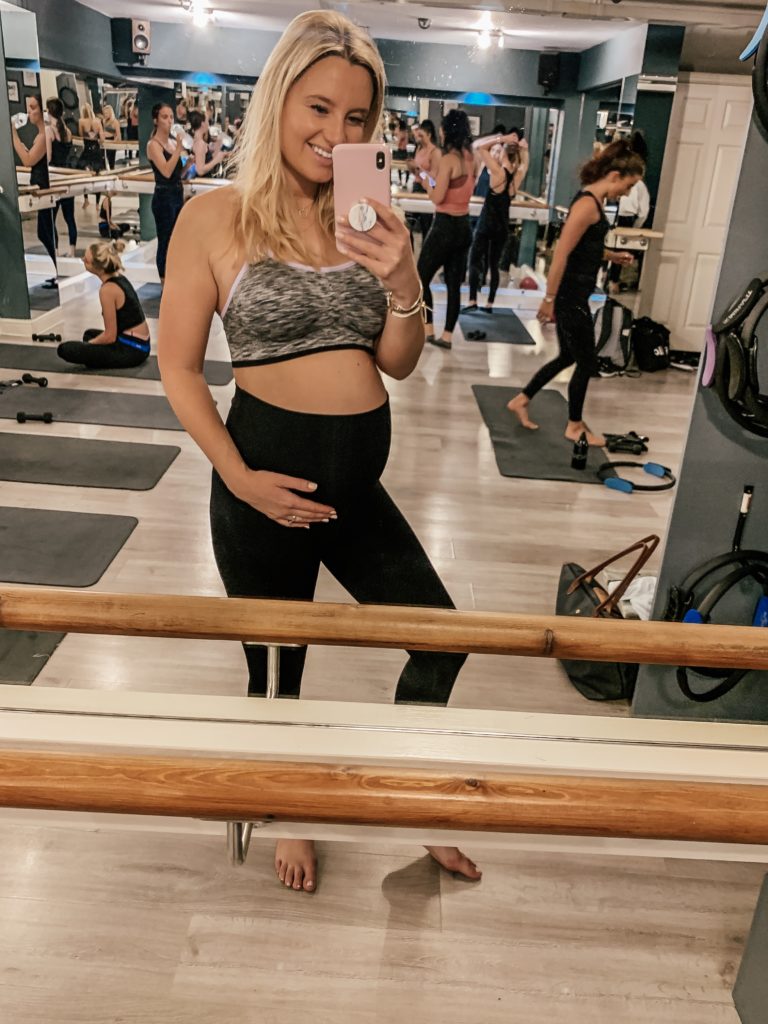 After my last blog post I was feeling that my energy was back to normal again, but this last week I feel like the baby has had a big growing spurt and sapped out all the energy from me!  My appetite has also gone off the scale (I can't stop eating) and i've been getting more out of breath recently… I love writing these pregnancy blog posts as it's great to record how I'm actually feeling at each time & how much of a rollercoaster the pregnancy journey is! I really recommend anyone to keep a little diary of theirs too. 🙂
I believe exercise is a very personal thing, we all have different reasons why we do it, how it can help us mentally, with our mood, helping to manage stress, anxiety & increase the production of endorphins!  Not to mention all the physical benefits our whole body can benefit from it & it can also help to increase your energy levels.
Before I was pregnant, I was training 5 days a weeks & walking everywhere.  I have had to cut out some of the exercising & weights classes that I really enjoying like Boxing but I am grateful to be able to still do Pilates & Barre which I go to PBB classes twice a week.  Not only do I love it for the social aspect it makes me feel, strong, energised & mentally better.  They have a baby barre class which makes me feel safe to keep exercising with a qualified (amazing) trainer in pre & post natal.  It is also lovely meetings new & mums to be so I really recommend finding a studio near you & get involved!
I was really scared in my first trimester to gym by myself & as you may have seen from my Instagram I have been having some one on one sessions with Paola from Paola's Body Barre (PBB) & with my friend & trainer Alice, Alice Living.  It is great to have the support from professionals to ensure you are performing exercises correctly.  Any training video telling you that you are fine to be doing box jumps & ab crunches should be banned from the internet!
I think some of the best advice I will have received is GET WALKING & KEEP WALKING right to the end!
From my friends that are mums and friends mums is just try to keep moving.  I have also read a lot that this really helps with labour & the run up to it.  Overall walking regularly can help maintain a healthy weight & reduces cholesterol, which can also help to balance blood pressure levels during pregnancy.
A few top tips for anyone who is pregnant that wants to get moving more..
If you weren't particularly active before your pregnancy, start slowly. Take a short walk & keep a comfortable pace for you.  Y0u can increase the amount you do slowly each week.
Listen to your body, I find it tells you when you need to stop something or slow down.
Keep hydrated & have a bottle of water with you when on the move.
Wear comfortable shoes, trainers are great, you don't want to be tripping up!
Allowing more time so you can get off a stop earlier to walk, or getting out for a stroll at lunch.
If you have any concerns about exercising your midwife or doctor will be able to clarify this.
I also find when I get out the house & having some fresh air helps with sickness.  If you have an iPhone the heart app counts & records your steps and KM so you don't need to have a watch on your own telling you to get moving!
I saw a story that Jessica Rose Lever put up on Instagram a few days ago sounding infuriated by abusive messages she's had received for going for a 30 minute workout with her husband.  I don't think anyone is in a position to criticise someone for what they want to do & even though she has a new born if this is how she wants to spend 30 minutes of her day for herself then good on her for doing so!   You shouldn't feel any pressure to physically look a certain way pre or post pregnancy, but it sounded she had many reasons for wanting to go.
I really don't think anyone should be TELLING you what to do, I look for inspiration not comparison & hope you find this post motivating to move in any way you wish but I certainly would never judge anyone for what they decide is right for them to do.  We need to remember not only as mums to be but as women we need to support & encourage each other because lets face it, men don't really understand so we should stick together.  I am overwhelmed by the community on Instagram since I have got pregnant & really feel like we are in this together!
Lots of love and healthy wishes,
Tessa x
A lot have you been asking about maternity outfits so sharing these details below:
Bra: This is a maternity bra which is actually really comfy & supportive from Bravado Designs the Body Silk Seamless Rhythm nursing bra
Sports Leggings
These are from Lorna Jane Maternity & fit so well.  They stay up over bump without being tight.  They are actually so comfy & not see through so I wear them a lot with jumpers, not just when on the move 🙂