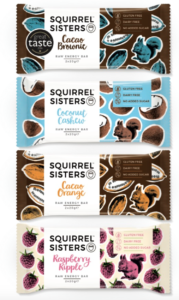 Founders of Squirrel Sisters; Sisters Gracie & Sophie Tyrrell wanted to create a health and wellness brand that is all about making 'being healthy' fun and achievable; proving that you don't have to make sacrifices to maintain a healthy lifestyle. Their slogan is 'Treat Your Health'.
Their range of 100% natural, gluten-free, dairy-free and no added sugar energy bars hit the market a year ago launching straight into Whole Foods and Planet Organic and have since then launched into many more retailers in the UK and abroad.
The sisters have recently won recognition for their raw energy bars by major British high street retailer Boots, launching into 250 stores. Having had no investment so far and still being a very small team, this kind of recognition really is a game changer for a brand, which literally started in the family kitchen, to bridge the gap between tasteless healthy snacks and delicious treats.
The bars are made with 100% natural ingredients and are gluten-free, dairy-free, grain- free and completely sugar-free as well as being suitable for those following a vegan, low GI or paleo lifestyle.
There are 4 flavours available in the range; Cacao Brownie, Cacao Orange, Raspberry Ripple and Coconut Cashew. The 40g bar is split into two 20g sticks (2x 20g per pack) each under 91 calories, because although calorie counting is going out of fashion, portion control is still important and no one can ever just eat half a bar… The two sticks also make for a more mindful experience being presented in a small tray, it enables sharing opportunities and they're great for mums who want to give their little ones smaller portions.
If you haven't tried one yet go grab a bar, from Boots, Holland & Barrett, Planet Organic, Whole Foods and Amazon!