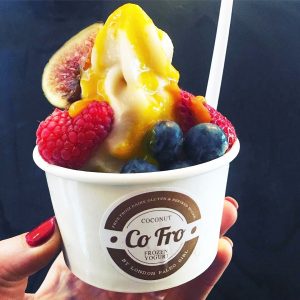 Hey All!
I am so glad to announce Co Fro is back and it is better than ever!  For those of you that didn't know I soft launched Co Fro, the UK's first soft-serve coconut paleo frozen yogurt in September 2015.
The day after my launch my dad got rushed unexpectedly into hospital having to have open heart surgery.  My journey to this point is another story, but my message to you is never give up.  As with all things, they don't always go exactly to plan and smoothly from the get go, but that is life, if you want something enough and it's meant to be you will get there.
I have been an advocate for the paleo diet since suffering from glandular fever and mild ME after graduating from University.  Living in this 21st century world, alongside the '70:30' principle and following the paleo diet for the majority of the time, which has made a significant difference to to my overall health and wellbeing.
Having an extremely sweet tooth, in addition to eating Fro Yo all the time before I changed my diet I realised the 'low fat' treat was just full of refined sugar and processed dairy.  I have always struggled to find something to satisfy that sweet craving, not just from a paleo point of view, but also allowing for other dietary requirements and preferences, that isn't just nuts or highly calorific.
After two years in development to create something new, that was a healthier version of my past love of Fro Yo, that joined with my new found love for coconuts.  Co Fro contains only 5 natural ingredients, which are free from dairy, refined sugar, soya and gluten, as well as being vegan friendly.  With each 'naked serve' being just under 99 calories, it makes the perfect treat at any time of the day.
Launching my first product, I am delighted with what I have been able to create with Co Fro.  There's been a gap in the market for this kind of product and I feel that it's something special for all not just those following the paleo diet or have specific dietary requirements.  It's great for those who would just like to make healthier choices when it comes to choosing something sweet.
Co Fro has just launched into Pitch Coffee, Fulham Broadway http://www.pitch.coffee/locations/ watch this space for where else you can find it very soon at
http://www.co-fro.com.
For more information on Co Fro please email hello@co-fro.com or visit the website.
Please don't forget to tag your Co Fro Naked (not you just the Co Fro haha) or with your favourite toppings on @co_fro & @londonpaleogirl so I can see!
Healthy wishes and love,
Tess Xx