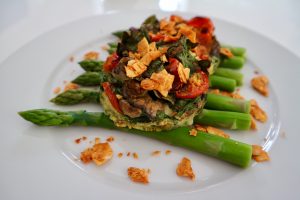 Turmeric & Herb Veggie Frittata Muffins, Steamed Asparagus & Smoked Coconut Chips
Ideal breakfast/ brunch or snack on the go:
Ingredients
x2 St Ewe 'Boost The Roost' super nutritious eggs
Sprinkle of Inspiral Crunchy raw savoury 'smokin' coconut pecks
Asparagus spears
Splash of unsweetened Almond/ Coconut mylk (optional)
3 Mushrooms
3 Cherry tomatoes
Handful of Spinach
1/2 Teaspoon of Turmeric powder
1 Teaspoon of dried/ fresh Parsley
Black Pepper
Method
Mix 2 beaten eggs with the finely chopped vegetables (I pre steamed) the mushrooms, herbs, turmeric, black pepper and splash of almond mylk
Place this mixture into the circular ring/ muffin moulds
Place in a pre heated oven for 20 minutes at 180*,  until they are set and golden.
Steam the Asparagus until cooked
To Serve
Lay out Asparagus, add on the Frittata cakes and top with the smoked coconut chips.
Tasty hot or cold and so versatile, you can use your favourite vegetables, meat/ fish additions.
Enjoy x