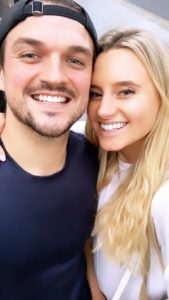 I wanted to share with you an honest experience of my pregnancy journey and keep a little diary of each trimester.
Starting with the journey of getting pregnant..
Firstly to clear up any confusion we nicknamed the baby 'Brian', not because I think we are having a boy, only because I was messaging Chessie and my phone kept auto correcting baby brain to Brian and after 3 attempts I just gave up with trying to say brain and baby Brian stuck.
Following our wedding last September the question of when will we be having a baby started to circulate, I don't think people mean to be rude and for the older generation they just assume that it will naturally follow.. They also don't realise children are for everyone as they usually have 10 siblings!
We decided that I would come off the pill following the wedding and I started using an app as I was desperate to become hormone free.  I chose the "prevent pregnancy" setting and hoped that after being on the pill for over 10 years my natural cycle would shortly resume back to normal.  The doctor did warn me it could take up to 9 months, and up to 18 months if you are on the implant.
I am a massive believer that everything happens for a reason and things will happen when they are meant to.
Following our honeymoon in January and a trip away for a best friends birthday in April where we were away with 3 other couples, 1 of which was the lovely Abi who was 8 weeks pregnant.  Whilst we were away something inside me changed, I wasn't sure what it was, possibly a flush of maternal hormonal's from Abi, but it was the first time in my life I felt super maternal and ready to have my own baby.
I think Adam was ready to start a family straight after the wedding but I tried to shut out the thoughts in my head that I couldn't get pregnant because I have such irregular periods when I was younger and 7 months later still no period.
The month after we got back from holiday in April we conceived, as I said something when we were away switched in my head (like my brain told my body I was ready) I was prepared to make the changes in my life (i.e. not opening another 2 businesses, starting a family was more important) and things became clear what I wanted and what was really important.  I changed the app to 'Plan a pregnancy' on the Sunday and we conceived the following Wednesday.  Something up there was telling us now was the right time and still with not having a period it really did feel like a miracle, seeing 5 different pregnancy '+' signs staring at us told us it was.
My top tips for getting pregnant (everyone is different but I feel these all helped me)
– Eating a balanced diet and enough food (not being in a deficit/ restrictive eating)
– Maintaining a healthy weight
– Reducing intensity of your exercising (I stopped doing HIIT & exercised less)
– Relaxing, getting enough sleep
– Minimising stress (this was a big struggle for me, so I cut back on amount I worked and took on)
– Stop 'trying' to get pregnant, with a more relaxed mentality of things happening when they are meant to  worked for me.  You know when you really really want something and it doesn't happen, you stop wanting it so bad then it does?
– Accupunture, I first starting having it about 5 years ago, the first time I didn't have a period for a year, after the session I felt period pains and movement and that same evening it came back. I started having a few sessions the month before we conceived.  It may or may not have been this, but who knows?
If they are known to specialise in periods and fertility then even better.
To be continued next week….
Hope you enjoyed reading about my pregnancy journey so far.
Lots of love,
Tess xx