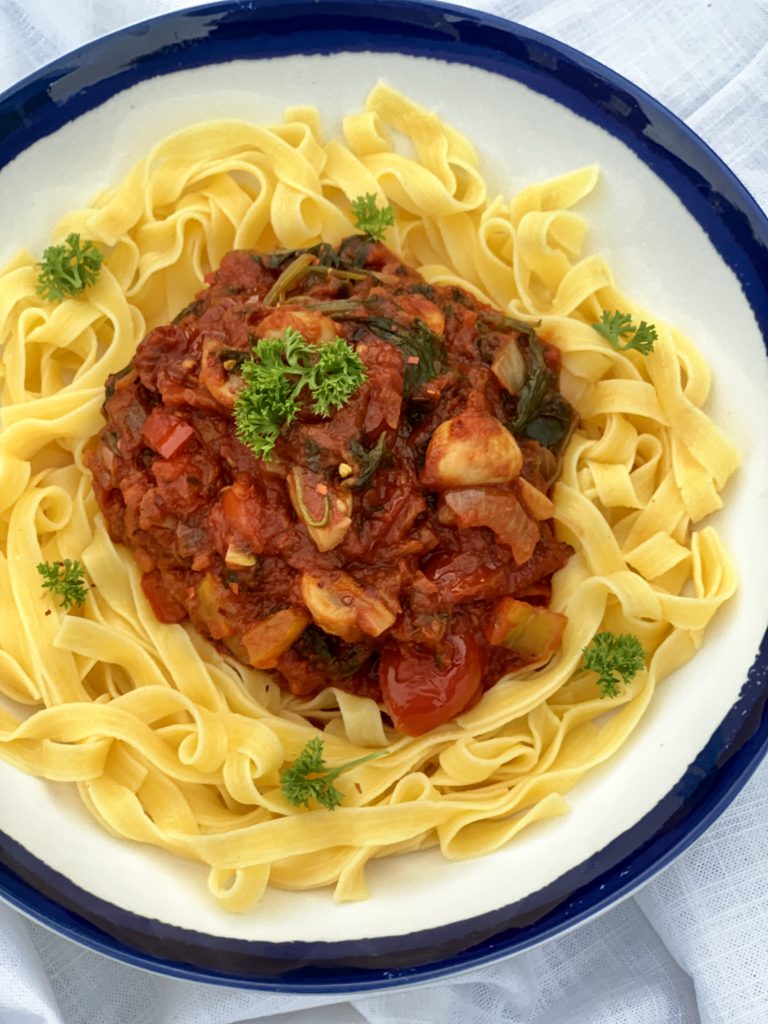 This is something we made in Italy on holiday last week, the ingredients out there seem to taste so much more fresh than what I can ever get my hands on in the UK, which made the dish extra delicious.  I believe it is always worth the extra pence to get better quality, local, seasonal & organic where possible ingredients. Your taste buds will thank you for it!  I purchased this amazing gluten free fettuccce pasta from the supermarket in Lake Como, the brand is called Molino Di Ferro who do an amazing gluten free range. I really hope they come to the UK soon or be available on Amazon!
You can obviously make this dish with any gluten free pasta that you have and the sauce is very simple.
Ingredients (for 2)
2 Serving of Pasta
2 – 3 cloves Garlic
1 large Onion
Handful of Cherry or sun dried tomatoes
1/2 each a red & yellow pepper
Handful button Mushroom
Handful Spinach
Handful of green Olives
1/2 Lemon (juice)
Jar of Tomato pasta sauce (with basil is the best)
3 Tablespoons Tomato puree
Fresh parsley
Olive oil
Seasoning, salt, chilli flakes & black pepper
Method
1. Dice all your veggies (keep garlic & onion separate & finely chopped)
2. Pan fry off the garlic & onion in a few glugs of oil (don't let burn)
3. Once cooked add the mushrooms, peppers, tomatoes & herbs.
4. When the veggies are all cooked add in the tomato sauce & puree followed by seasoning.
5.  Let this simmer on a low heat, longer the better (approx 20 minutes) & add in the olives (remove stone).  For the last 5 minutes add the spinach & a little squeeze of lemon juice.  Add boiling water with a little salt to a separate sauce pan followed by the pasta, the instructions usually say around 6 minutes, test & once cooked to your preference drain & serve topped with the pasta sauce.  You can add fresh parsley & grated dairy free cheese or add a spoonful of Nush almond chive "cheese" spread for a little creaminess.
This can work with any of your favourite vegetables & is so delicious being pretty simple.
Hope you enjoy 🙂 x