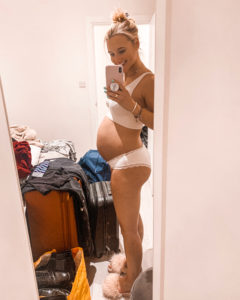 Hi my lovelies,
So the last week has been a pretty mad one moving house.  An end of an era being a London resident, having moved to Surrey to fresher air, much more space for the baby & Colin plus a house we could actually afford to buy.
Week 25 on the whole I have felt good, my sweet tooth has come back & I can eat chocolate again without getting a migraine!  The whole house move has been frustrating as I felt totally useless not being able to do much lifting & painting.  Chessie whisked me off to 'The Baby Show" on Friday which was super fun/ overwhelming with so many different brands & products there.  The best bit was seeing our pram that we have decided to go for which launched that day & we had only seen photos so was very excited to give it a go. It is the Silver Cross Pacific Autograph in INK, I absolutely loved it, it looked super 'stylist' & was a lot more lightweight to push than a lot of prams I have tried, but still felt sturdy & well built!
I shared a few brands that I found & have been recommended to get from my friends so I have listed these below:
Snug Pod – we have gone for the new Dove Grey Rose Gold colour with the LUXE cot & changing unit
Ewan Deluxe Sheep as a baby sleeping aid, I met the founder who was lovely & had to buy one!  Also been recommended the My Hummy from a friend.
Ergo Pouch – they do gorgeous quality sleep suits & sleeping bags.  I learnt about different togs & they give you a temperature guide what the baby needs to wear depending on the temperature.
Sleepyhead – Every friend has recommended getting one of the deluxe pods, which seem to work well on the sofa & when traveling about.
Hospital Bags – not something I have thought about yet but something they say you really should at 6 months. I saw Kerkit England at the show that had a gorgeous range & many have said look into getting a backpack so you have more arms but I have always preferred shoulder/ travel bag styles.
Sophie La Girafe – amazing for stimulating each of their senses & I have brought quite a few for friends as meant to be amazing as a baby's first toy & they have loved.
Medela – Breast pump.  I have gone with the new Freestyle Flex which is an electric double breast pump, I saw a demo of it at the show & it looked relatively easy to use, it is also the hospital grade & seems to be highly regarded in the pumping world!
I still need to look into baby monitors, play mat/gyms & baby care (wash etc) products, so will keep you guys updated on what else I find.
Hope you find these helpful too.
Lots of love,
Tess x