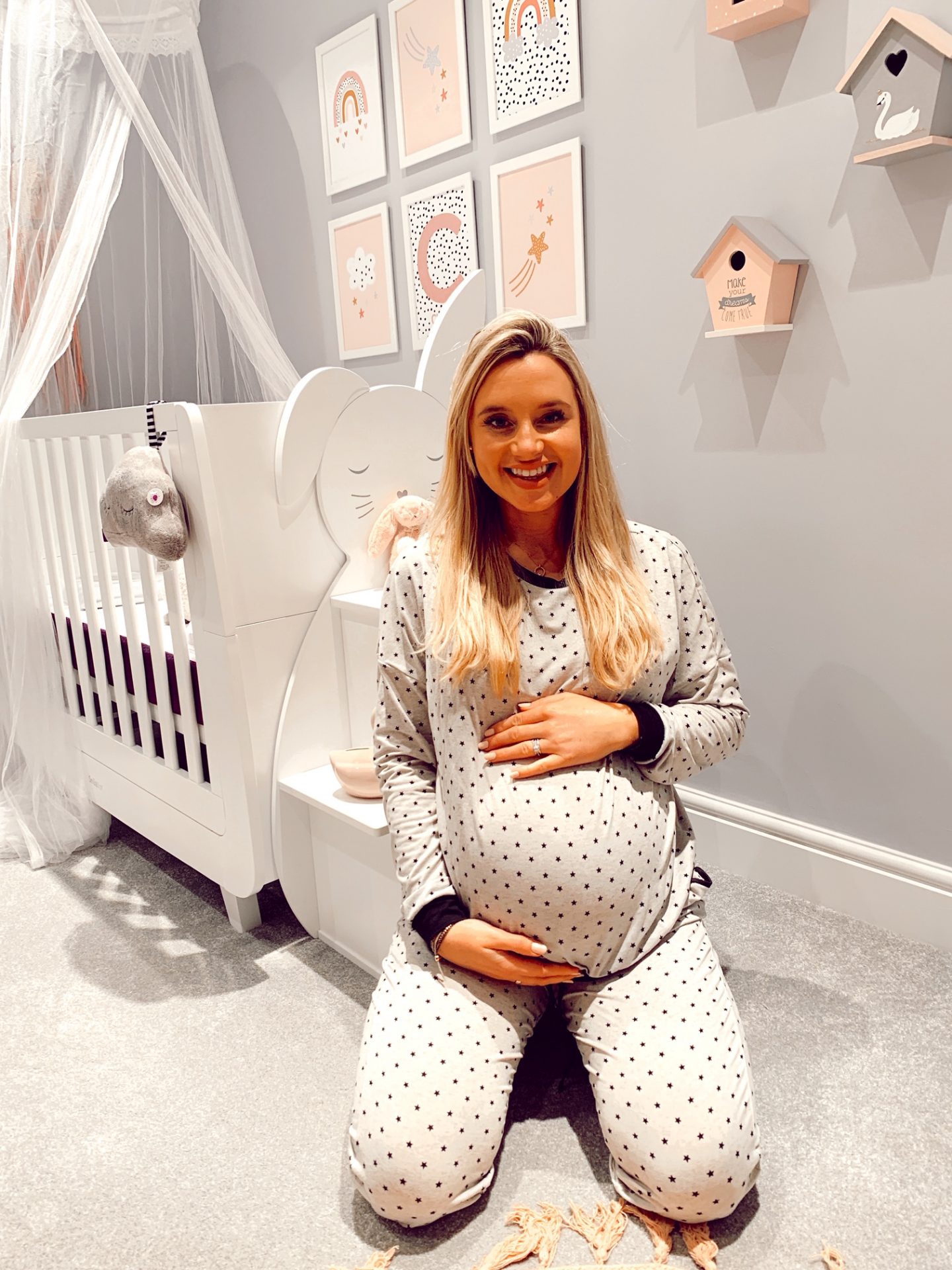 Hi my lovelies, I can't believe this is the last pregnancy diaries post that I will be writing! Until I start Mumma diaries! It feels like the last 10 weeks have gone so quickly but I also feel like I have been pregnant forever haha (anyone else in the last few weeks will know what I mean)!
I have created a highlight tab on my instagram feed but I hope this check list of all my favourite items are helpful for you & I have tried to include as many links to the products I have chosen as possible.
Starting with;
The Nursery
Furniture
My favourite set was the Snuz: Bedside Crib for first '6 months' in our room:
before moving into the Luxe Cot
https://www.snuz.co.uk/snuzkot-luxe-cot-bed-white/
Changing Unit
https://www.snuz.co.uk/snuzkot-luxe-changing-unit-white/
BabyDam Baby Changing Mat Grey/White to go onto of the unit & I would image fits most units, it's really good quality
Changing Mat
Bedding
Crib Snuzpod Mattress from the little green sheep
Snuzpod mattress
Cot Mattress – the UK's best natural mattress
The little green sheep cot mattress
Mattress Protecter crib
https://www.thelittlegreensheep.co.uk/organic-mattress-protector-to-fit-snuzpod3/
Mattress Protector cot
Protector (Waterproof)
Fitted Sheet for cot
Fitted Sheet
(best quality & fit I found compared to a few other brands I got)
Maisons Du Monde
(I got a little carried away on the room accessories) but these were my favourite & for the quality was super happy to discover
Wall Art
https://www.maisonsdumonde.com/UK/en/c/nursery-decor-nb3cab34b2d1445dedb55eceffe56da7b1e92324
Dream catcher
https://www.maisonsdumonde.com/UK/en/p/pink-dreamcatcher-25×82-bucolique-181303.htm?page=1
Rug
https://www.maisonsdumonde.com/UK/en/p/round-pink-cotton-rug-with-pom-poms-d100-nina-179797.htm?page=1
Cot Canopy
https://www.maisonsdumonde.com/UK/en/p/white-bed-canopy-pastel-135178.htm?page=1
Book shelf – the bunny one I got looks like it's now out of stock as I can't find it on their website
Prints
Etsy
Set of 6 prints – with name personalisation (white frames I got separately from Ikea) https://www.etsy.com/uk/listing/755835069/set-of-6-modern-rainbow-prints?ref=pla_similar_listing_top-1&frs=1
Mamas & Papas
Nursing & Feeding Chair
I got in Silver (link above)
Dusk
Chair Pillow & Cover
I went for grey & pink (link above)
Tommee Tippee Nappy Bin
Twist and Click Advanced Nappy Disposal Sangenic Tec Bin, it is honestly brilliant, it is desecrate & helps contain any smelly nappies!
Nappy Bin
Tiny Pix Co Wall Stickers
https://www.etsy.com/uk/listing/686600035/hot-air-balloons-x3-wall-stickers-moon?ref=shop_home_active_1&frs=1
Blossom & Sweetie Pom Pom Garland nursery decor
Nursery Decor
Nursery Paint colour is from Laura Ashley & is 'Pale Slate'
Wardrobe Draws & dividers
https://www.ikea.com/gb/en/p/kullen-chest-of-5-drawers-white-20393662/
https://www.ikea.com/gb/en/p/stuk-box-with-compartments-white-grey-20364004/ (check sizes as the ones I got fit the Snuz changer not the Kullen drawers
Egg Room Temperature
Room Temperature Egg Monitor

Bouncer/Rocker
This one was from Fisher Price, for the money & use we have had from it it's been brilliant
Mamas & Papas
Bouncing Cradle 'massage chair'
https://www.mamasandpapas.com/en-gb/capella-bouncing-cradle-dream-upon-a-cloud/p/401136300
Tomy
Night light projector & soother
Colin loves it so I hope she does too
Gentle music & light baby soother
Baby Bath & Rinser from SkipHop
We got our Skip Hop bath from John Lewis but the quality & design is great. Angelcare bath is also meant to be a good one too.
Bumbo changing pad & Eli pad for bathing (to save our knees)!
http://bumbo.co.uk/?product=changing-pad
http://bumbo.co.uk/?product=elipad
Hooded Bath Towel's
https://www.thewhitecompany.com/uk/Elephant-Hooded-Baby-Towel/p/BTTEA?swatch=White

Infantino
Soft Foam Puzzle Mat (to go in sitting room)
https://www.infantino.com/collections/activity-gyms-playmats/products/soft-foam-puzzle-mat-1
Activity gym
https://www.infantino.com/collections/activity-gyms-playmats/products/grow-with-me-activity-gym-ball-pit-1
Sleepy Head Deluxe Pod (my friends have said this is a must)
She now has the Grand size which they say goes up to 36 months
As babies can only initial see black and white I got these accessories
https://sleepyheadofsweden.com/collections/accessories/products/sleepyhead-toy-arch-black-and-white
https://sleepyheadofsweden.com/collections/accessories/products/toy-set-cloud-friends
Mamas & Papas Tummy Time Elephant
https://www.mamasandpapas.com/en-gb/tummy-time-snugglerug-elephant-baby/p/743746800
Baby & Me things:
Car Seat
Nuna REBL basq
https://www.nunababy.com/uk/rebl-basq
Silver Cross
Pacific Autograph Pram (colour Ink)
https://www.silvercrossbaby.com/our-products/prams-and-strollers/pacific-autograph/pacific-autograph-ink/
Ergo Baby Carrier The quality of this carrier is amazing, I wanted to get a carrier as seems a really easy and comfortable way for us both to carry her
https://ergobaby.co.uk/baby-carrier/embrace/embrace-heather-grey
Lansinoh were my favourite nursing pads, soft comfortable, desecrate & helped soak up any milk leakage.
Nappies
Kit & Kin (a more eco friendly option)
https://kitandkin.com/collections/nappies/products/eco-nappies?variant=14190098153517
Sleeping Bags – I wanted to go with these over swaddling
Baby Essentials
– Baby bath towels & wash cloths
– Top & tail baby wash bowl
– Cotton wool pads
– Baby wipes (not essential initially)
– Nappy bags
– Muslin cloths (need lots)
– Cellular blankets, thicker blankets (for car seat, pram etc)
– Bibs (for dribble)
– Black and White books & ones for you to read
– Sensory Toys
– Matchstick monkey teether from 3 months
– 'Grooming kit' hair brush
– Baby first aid kit, inc: thermometer
Tommee Tippee
Steriliser (If required if expressing, MAM bottles are fab too)
https://www.johnlewis.com/tommee-tippee-closer-to-nature-complete-feeding-set-black/p4175212
Clothing
– Will share more but the essentials are vests, short sleeve, long sleeve legs out, and full body baby grow in newborn & 0-3 months
– Socks/ tights
– Hats
– Scratch Mitts
– Pram suits
Most of the ones I got were from John Lewis, Tu Sainsbury's, JoJo Maman Bebe, Baby Gap, Boots, The Little White Company
Hospital & Baby Bag
KeriKit England
https://kerikit.com/collections/travel-bags/products/thea-leopard-weekender
Blackpack – https://jemandbea.com
Hospital Bag for Baby
-Baby grows (vests, & full body grows – newborn)
– Hats
– Nappies (& bags) pack enough you go through a lot
– Muslin cloths
– Blankets
– Muslin cloths
– Car seat carrier
Hospital Bag for Me
– Standard Toiletries
(Wet wipes (body wash if staying in for a few days) face & body moisturiser, hygiene gel, tissues, tooth brush & paste, hair brush, hair bands/ clips, lip balm, sanitary pads)
– Phone charger & battery pack
– Loose vets & button tops
– Nursing bras (Bravado one of the best also H&M/ New Look/ ASOS have some)
– Big full brief pants (Sainsbury's, M&S, H&M do a good selection)
– Comfy clothes for leaving the hospital
– PJs, (high waisted & loose) short sleeve baggy nighties with buttons & loose & light dressing gown (H&M, Gap, Primark, ASOS & Amazon I got the dressing gown from)
– Flipflops/ sliders/ slippers
– Relaxing & energising oils, Lavender Balm (1001_remedies) & Neom Organics; oil, spray & handkerchief
– Arnica Tablets (for caesarean)
– Food & drink: coconut water, small almond milk carton, sweet & savoury snacks, bars, Moma instant porridge
A few other products I have been taking through pregnancy
Symprove https://www.symprove.com/symprove-explained/
& I recommend taking a pregnancy supplement (containing Folic Acid).
I hope you find my recommendation helpful 🙂
*Please note some of these items mentioned are affiliate links in collaboration with Amazon.