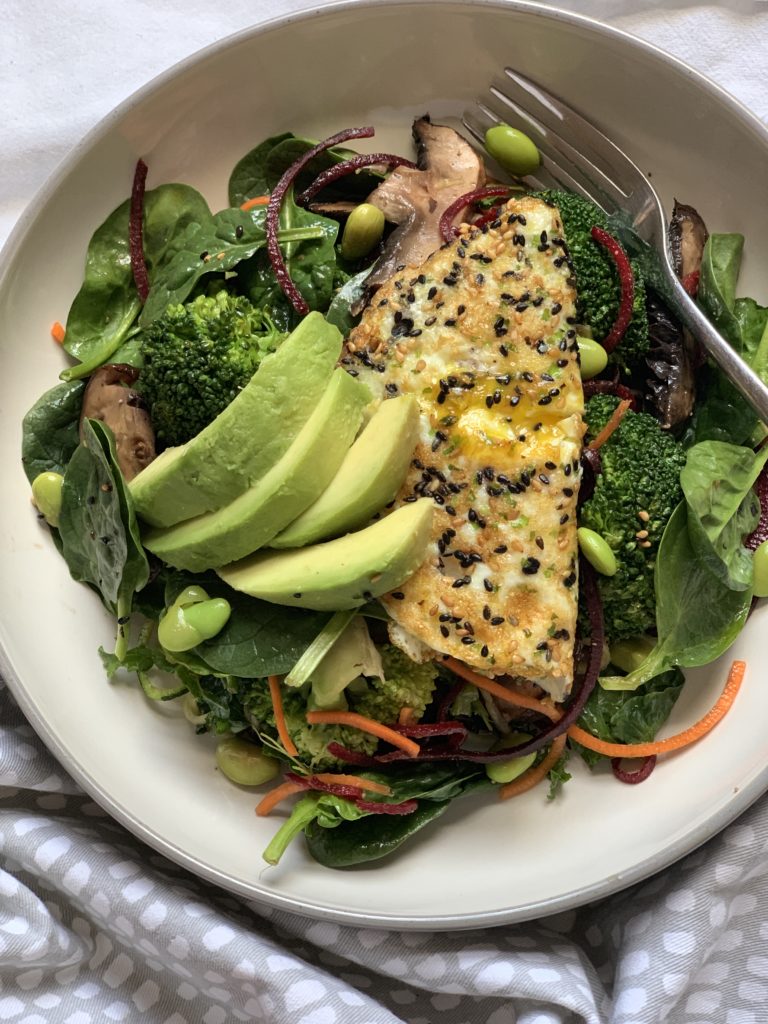 This Asian Bowl is light, yet nutritiously filling with a variety of vegetables and naturally gluten, grain and dairy free.
This is a simple dish that is great cold for a packed lunch or heated up for dinner, ready in no time.
All you need..
Ingredients:
Veggie noodles, I used: Beetroot, Carrot & Courgette.  You can buy these already spiralized in some supermarkets or if you have a vegetable spiralizer at home.  This would also work with any kind of noddles of your choice.
Vegetables: Edamame beans, spinach, broccoli, mushrooms
1 Free Range Egg
1 Tablespoon of black sesame seeds
1/2 Avocado
1 Garlic clove
1 inch grated ginger
Handful of chopped coriander
– Cooking oil: I usually use coconut & avocado oil
Sauce: 1 tablespoon of each (tamari, rice wine vinegar, mirin, sesame oil)
Method
Firstly I steamed the broccoli  & mushrooms for 7 minutes/ until it is cooked, then added a glug of oil into a large stir fry pan, followed by the chopped garlic & ginger, then add your noodles and cook as instructed.  I undercooked the veggie noodles then added in the steamed vegetables and edamame beans followed by the sauce.  After a few minutes remove from the heat then stir in the spinach before plating up.
Whilst the veggie noodles are cooking, you can add a glug of oil to a small frying pan on a high heat, once hot add the sesame seeds then crack in the egg.   Turn down the heat to medium/low, fry for a couple of minutes, add some of the hot cooking oil on top of the egg to help cook, or a splash of hot water.   Remove from the pan and fold in half, placing on top of the salad, finally top with the sliced avocado.
This is also great for a desk lunch, but I prefer having all the veggie noodles raw for this and the salad cold.
Hope you enjoy the recipe 🙂
Tessa x