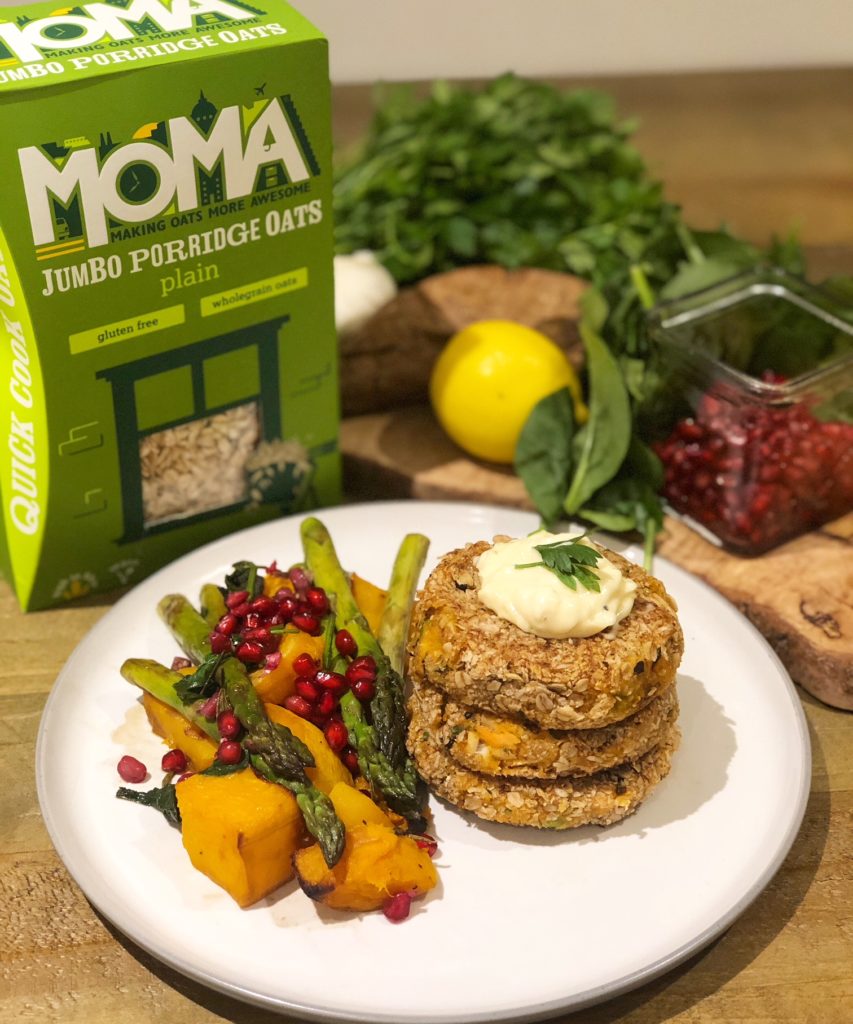 These sweet potato fishcakes are so versatile you can use Salmon and Haddock like I used or you can use any fish you prefer, everything seems to work! Full of wholesome, natural goodness and surprisingly filling, they are perfect for lunch or dinner and for the whole family.  You can also choose to add or leave out the Thai spice whichever you prefer, however it adds such a fresh, fragrant and delicious flavour.
Ingredients to makes 6 palm sized fishcakes:
– Boneless Fillets of 250g haddock and approx 250g salmon
– 3 medium sized sweet potatoes
– 100g of frozen peas
– 2 Spring onions
– 1/2 litre Coconut milk – I used Vita coco original coconut milk
–  1 Garlic clove
– Bunch of coriander
– 2 Tablespoons of red curry paste  – I used Thai Taste which contains a pre mix of: garlic, dried red chilli, lemon grass, salt, onion, small red chilli, galangal, kaffir lime peel, spices.
– 1 Lemon juice
For coating:
– 1 Free range egg – I used St Ewe's rich yolk
– 100g Moma gluten free jumbo oats – Lightly blitz for a few seconds I used a Nutribullet
Vegetable sides:
– Butternut squash
– Bunch of asparagus
– Bag of spinach
– Pack of pomegranates
– 2 tablespoon of mixed dried herbs to go on the squash
– 1 tablespoon of coconut oil
Topping:
I used a teaspoon of Hunter & Gather mayonnaise (they are the UK's first avocado oil mayo and they also use St Ewe's egg yolk, so you know its full of quality and tastes just like regular mayo but better!
Coconut Oil for cooking – I used Vita Coco which is 100% pure, unrefined and organic.
Seasoning (chilli salt & black pepper)
To make:
1.Pre heat the oven to 220*c, lightly prick a few holes into the sweet potatoes then place in the oven for 45 minutes until soft and cooked  through.
2. To cook your veggies;  add a separate baking tray to the bottom shelf and covered in tin foil the chopped butternut squash mixed with a little coconut oil and herbs, these take 30 minutes you can add the remaining vegetables 10 minutes before ready to serve.
2. Pour all the coconut milk into a saucepan, then add the chopped garlic, spring onion, chunks of fish (remove skin if needed), 1 tablespoon of red curry paste and then the frozen peas 4 minutes before removing from heat.  Cook on a medium heat for 8 to 10 minutes.  Add more coconut milk or hot water if needed so everything is covered and once cooked drain the ingredients using a colander and place aside.
3. Remove the sweet potato once cooked from the oven and scoop out the inside into a bowl and lightly mash with a fork, then add  all the drained ingredients (fish, peas etc) into this bowl with 1 tablespoon of red curry paste, 1/2 lemon juice, seasoning and finely chopped coriander and mix well until completely combined.
4. Divide the mix into even sized patties, these should make 6 and fit the size of your palm.  Lay flat on a plate covered with grease proof paper/ baking paper and have 2 bowls; 1 with a whisked egg and the other the lightly blitzed oats.  Place 1 fishcake at a time into the egg mix and thoroughly cover then place into the oats and cover evenly. Then place back on the plate to do the next.
These firm up and hold better if you place them in the fridge to set for a few hours, however if you want to eat them straight away then just head to the next step.
5. On medium heat add a tablespoon of coconut oil in a large, non-stick frying pan, then fry the cakes for 5 mins on each side until golden and hot, be carefully to not let them burn, you can keep turning or reduce the heat. Once they have gone golden and crisped up you can also add them to the oven on a   low heat to keep warm whilst you pre the vegetables and cook the rest.
Serve with the roasted vegetables (or your favourite ones) and top with a squeeze of lemon juice, fresh herbs and a spoonful of the avocado mayo – it adds the perfect creaminess, my favourite fishcakes to date!
Enjoy xx