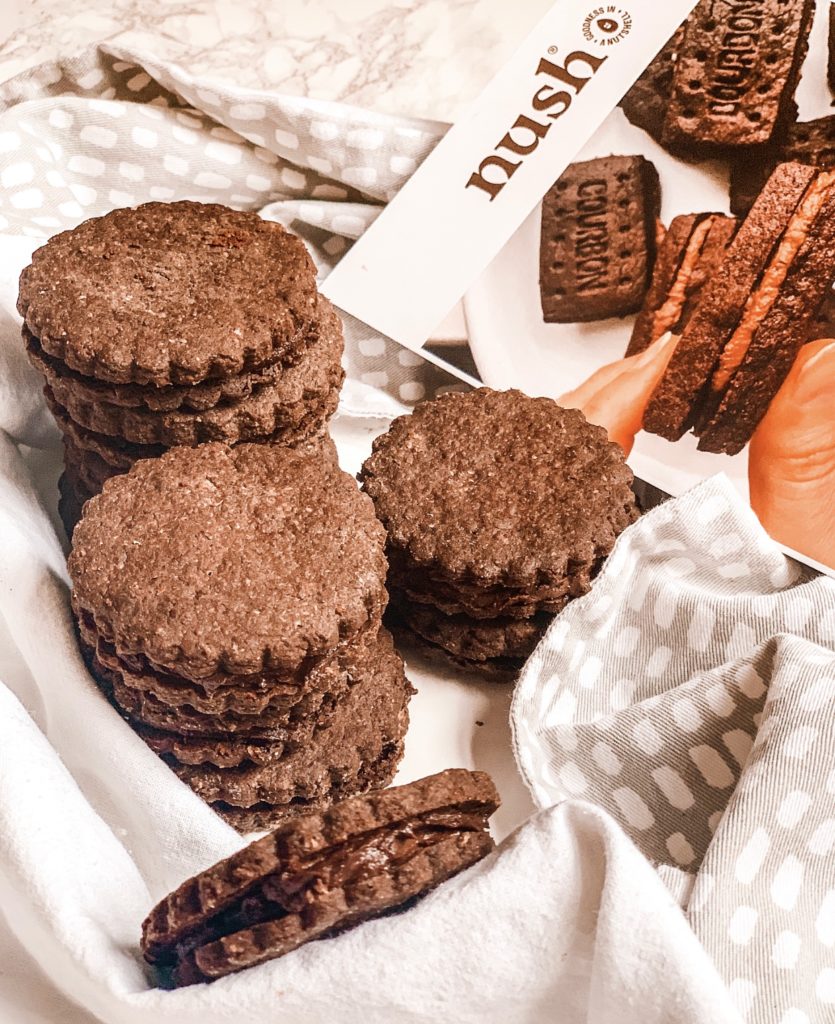 To celebrate the launch of Nush Foods going into Holland & Barrett I received a lovely box of ingredients to make this Nush Bourbon Biscuits recipe.  I didn't have the Bourbon cutter which is apparently available on Amazon, so I used a metal ring cutter which made them look like Jammy Dodgers but still tasted everything like a Bourbon Biscuit – not to forget being vegan & refined sugar free! BONUS 🙂
So all you need to make…
225g Spelt flour (if you want it to be gluten free sub with a gluten free flour (rice etc)
125g Melted (room temperate) coconut oil
75g Raw cocoa powder
1 Tsp Baking soda
125g Coconut sugar
2 Tbs Maple syrup (or any unrefined sugar)
1 Tbsp Dairy free milk
For the filling (my absolute favourite combination for chocolate icing,ideal for any cake filling & cupcake frosting too):
1 Pot of Nush natural almond 'cheese' spread
3 Tbsp Raw cocoa powder
4 Tbsp Maple Syrup (or any unrefined sugar)
Method:
Pre heat the oven to 180 degrees
In a large bowl add the dry ingredients (flour, coconut sugar, baking powder & cocoa) mix thoroughly.  Pour in the melted coconut oil, milk & maple syrup, mix well until it forms a dough (add a little extra coconut oil/maple syrup if too crumbly).  Chill dough in the fridge for 5 minutes.
Carefully roll out to a thickness of 1cm (flour the surface & rolling pin) gently moving to ensure the dough doesn't crumble & break. Once evenly rolled out use the cutter to make the biscuit shape.  I actually rolled this out 0n grease proof baking paper so it could be easily transferred onto the oven rack.
Bake in the oven at 180 degrees for 15 minutes. To make the filling, mix the tub of Nush Almond 'cheese' spread with the cocoa powder & maple syrup until fully combined then place in the fridge (try not to eat it all whilst waiting for the biscuits to cook like I did).   Once the biscuits have cooked and cooled completely. Sandwich the filling between two biscuits & enjoy!
Healthy Love,
Tessa Xxx