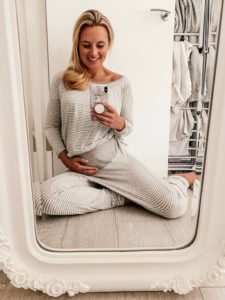 Happy half way point to other fellow mummy's at this stage!  🙂
On one hand it feels like it has gone so fast and on the other, another 20 weeks sounds like a long way to go..
I was really excited about welcoming the second trimester, apparently you now will feel amazing, get your energy back, nausea stops and you can eat like a normal human again…. SAY WHATTTTT?
This is why we can never compare ourselves to one another.   I welcomed in week 20 with exhaustion, flu and the biggest craving for fries.
I also thought by this point anxiety would have stopped.  I had a little panic before I went away and I find when you are busy and on the move a lot it seems you feel less movement.  I had my first little 'butterflies in tummy' feeling at 18 weeks, but was told it is totally normal to not feel anytime until 22 weeks.
Maybe the reason I haven't been feeling great is I had the 20 week goal of feeling amazing in my head, I probably over did it, had lots of plans and wasn't just quite there yet to think I could do as much as I was/ had hoped.   I have always hated letting anyone down, be it friends or work events and also paired with FOMO i've struggled a lot recently.  Some people just won't understand and that's ok, because I probably didn't truly understand with my friends that now have babies before.  I've found pregnancy makes you have to be selfish, self absorbed and if you haven't been able to embrace that before, then now is the time to make the most of it! haha
I feel like the last 5 months have taught and shown me a lot, I have never been so grateful for the family and friends who have been there and supported me every step of the way, which I will be forever grateful for.   So don't take those people for granted, they will probably end up being free child care for you too 😉
A few tips & things to remember for this week..
You are OK to cancel plans & say no to things
You are NOT a let down
You need to put YOURSELF & BABY first
You are allowed to be hormonal, over sensitive & over whelmed
You need more rest & sleep then you think you do
Getting a dog was the best things I ever did before getting pregnant (the cuddles & getting you out for walks and clock up those steps, especially when you just want to not leave the sofa really does help)
Don't underestimate how much better a bath/ shower/ washing your hair can make you feel
Think i've said this before but having a few private scans around the 2 you get from the NHS are the best money i've ever spent
Treat yourself, a new jumper/ bra / blow dry/ manicure/ pregnancy leggings
The above points I tell my other pregnant friends but sometimes forgot to take them on board myself..
The hi-light this month had to be the 20 week scan 🙂  seeing baby Brian moving around, hearing the heartbeat, being told she/he is healthy and blowing bubbles to us has to be the best feeling in the world. We also were told we could find out the sex… however we have arranged a little gender reveal party for close family and friends in a few weeks time, to share the news with them and also any excuse for Adam to have a party, so I am counting down the days until we find out!! 🙂 We are also moving out of London, which feels like a big step, but a very exciting one and I will share with you more about this soon.
Next week I will be sharing with you some of my favourite pregnancy purchases so far..
Lots of love and healthy wishes,
Tess x