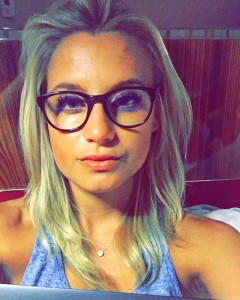 After being asked a few times what my normal day involves, I thought I would share it with you. 'A day in the life of Tess' so to speak, which I have to say, is rarely ever the same.  Since returning back from LA, this week's daily to do list is slightly more hectic than normal; so here's a rundown of a busy day in the life…
Wednesday 6am – alarm goes off. I wake up at my parent house in Sussex, and after getting ready, it's straight to the kitchen to make a quick breakfast to go. We're then quickly off and back up to London in my father's van to pick up the Co-Fro (frozen yogurt) machine. I end up stinking the poor van out with a smoked salmon, avocado, spinach egg wrap, but two hours later, the smell has finally faded away and we arrive in London. All the while I am checking my blog and Instagram pages, with the glare from the screen; sometimes my eyes feel particularly strained.
First stop is collecting the machine from 'Press' in Soho en route to taking it to the new pop up store 'Simple Health Kitchen' in St Paul's. After a quick setup and demo it is good to go, and after a matcha latte so are we. Unusually, there's a spot of strong sunshine (and a lot of glare), and with a lot of toing and froing from the van I feel the full force of it.
Following this site viewing it was a quick (yet essential) stop for lunch, which was a simple trout, potato, and beetroot salad, before setting off to meet the new manager and check in at Raw Press Café, Chelsea—another home to Co Fro.  Once again I check my emails and social media on my phone; which seems to be a full time job in itself.
Now to wind down, no classes or exercise for me today just off to an event at 'Farmacy', a new vegetarian restaurant in Notting Hill. On offer, a delicious eight course tasting menu, with a side of superfood cocktails. It's the perfect place to wind down after a busy day with friends, and lovely to chat with like-minded people.
Before I go to sleep I need to send half a dozen emails, and write up notes to send to my business partners from the meetings throughout the day. My eyes are tired, so on go my Eyezen glasses and I'm able to work until the early hours of the morning. Finally it's time for bed, and I sleep like an absolute baby. I love what I do, and not every day is as full as this, so all in all it always balances out okay. ☺
I'm not sure if you saw my Instagram post last week, but I have been very luck to work with Essilor. They have used the latest technology to create an amazing glasses range called 'Eyezen'. In all honesty I wasn't so sure if they would help me at first, but I can't even begin to explain the difference they have made to my everyday eye health. The main purpose of the Eyezen lense is to filter out blue light which can be harmful to your eyes, and thus potentially damaging to your overall health.
As part of my lifestyle, I have to use my phone and laptop constantly to keep on top of my social media platforms, mountains of emails, and messages. Since using the glasses, I find my eyes not only benefit from enhanced visual effects (being anti-glare), but I know this is also helping to prevent future problems that I may encounter from my daily exposure to harmful blue-violet light. They also go hand in hand with my own health motto which we seem to share: 'See. Protect. Prevent'!]
For more information on this company and how they could be useful to you too visit: http://www.essilor.co.uk/products/eyezen
If you ever have any questions on my posts please always feel free to email me.