Hello everyone!
Choosing your weaning kit and in particular the right high chair can be so tricky. There's so many products on the market, so much that you think you might need – it can be a really expensive time and sometimes quite difficult to get it right first time. We have certainly found some things that we couldn't have done without and other bits that are simply unused or not worth the money. So having spent the last 8 months weaning Clara and trying out a whole variety of kit, I thought you might like to know what I consider to be my essential items for weaning, the bits I couldn't do without. I've also included a few tips on how to choose the right high chair, which for me is the most important item. Getting it right first time will mean not having to buy replacements and actually saving money in the long run.
So here's my essential weaning kit!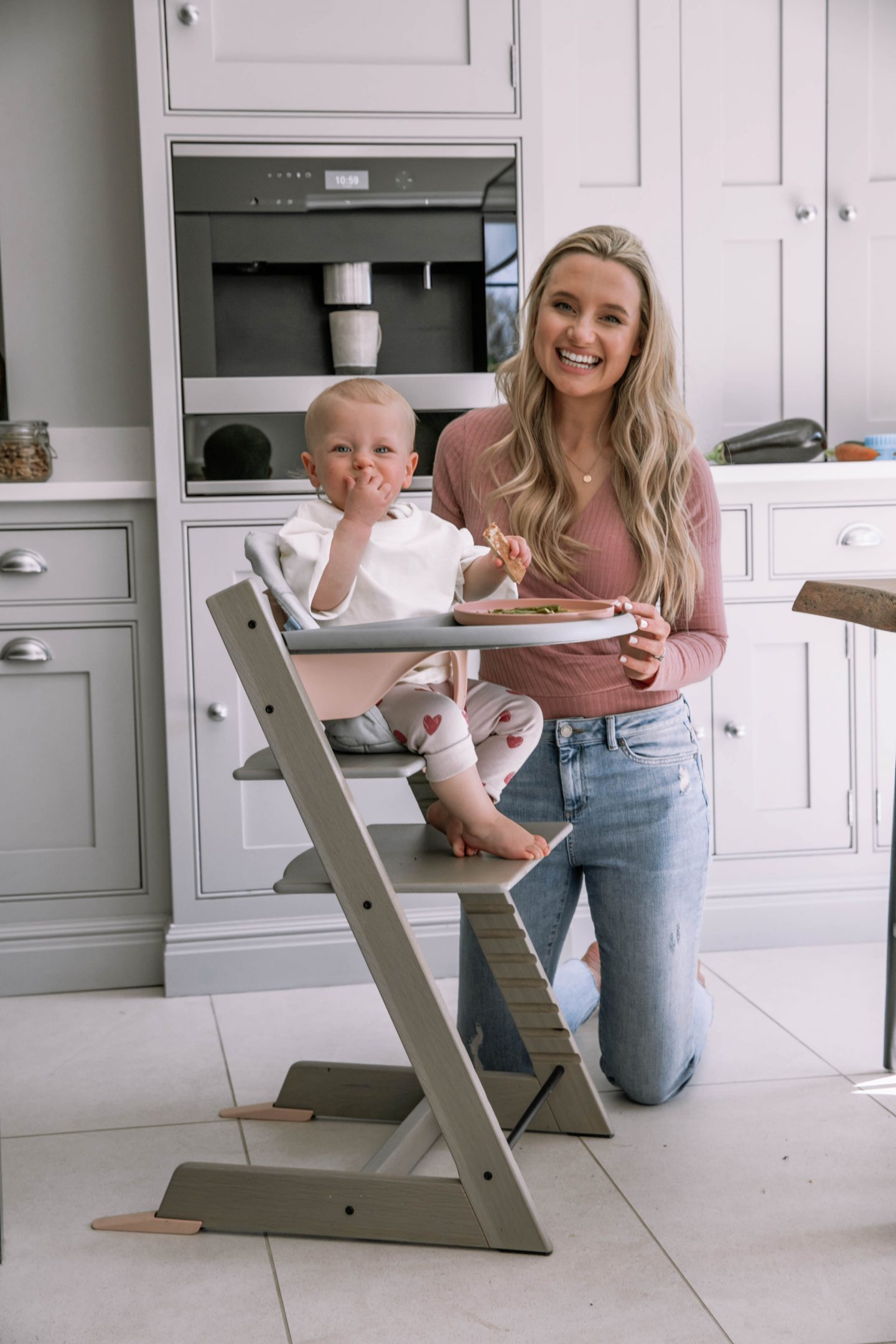 The High Chair
Definitely the most expensive item on our list and really important to make sure your baby has the best possible weaning journey.
The key points for a good high chair are:
Adjustable foot stool so feet always touch and are not hanging (you need your feet to staberlise !)
Back support to help encourage sitting up straight
Straps so they can't move around too much or get out
Make sure they are comfortable to increase the time they will tolerate sitting upright 90 degrees, not slouched, this aids digestion and also helps to prevent choking
Use rolled up towels or blankets if your little one is slipping side to side in their chair
Look to tick off these points when you are choosing yours!
Other good points which are not necessities but nice to have are;
The back legs don't stick out too much (tripping hazard)
Winged table tray, to catch as much food as possible from the floor
Not too many nooks and crannies for food to find its way into and make it difficult to clean
Removable table tray to aid cleaning too
Comfortable seat cushion
If you follow me on social media you will know we went for the Stokke Tripp Trapp . It's really well built and sturdy whilst looking really nice, its design fits perfectly with our kitchen, there are loads of colour options available along with a vast array of accessories. When comparing to others it ticked all the boxes above and we loved the look which was a bonus! We have been using it for over 6 months now and really recommend it. It is a little more expensive than some that we looked at but the build quality means that it will last a long time and we won't have to replace it should we have more children in the future. Friends with older children who have invested in the same chair actually use it all the way through the early years as it tucks so nicely under any standard dining table.
Once you've chosen your baby's new throne it's time to get all the other bits. Again, if you buy wisely, you can save ending up with lots and lots of stuff that will fill up your kitchen or end up in the bin!
Cups
We have always been recommended to use an open cup or a cup with no valve. At the table we train Clara with an open cup and then also use the TumTum at the table, around the house and out and about. It really is the best design and doesn't have a valve to encourage them to drink normally.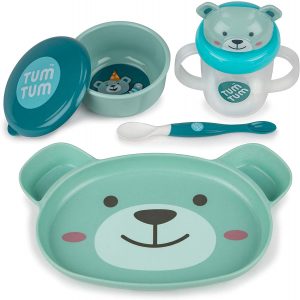 Bibs
We really wanted to encourage messy eating and play for Clara but cleaning up time after time is time consuming and exhausting, so a good bib has really helped. We tried a lot of different styles but never found anything better than this one from Bibado. It covers Clara's full upper torso and stops food dropping down into the highchair by her feet. It also reduces food waste as Clara loves to find food that's dropped into it and get herself a bonus treat!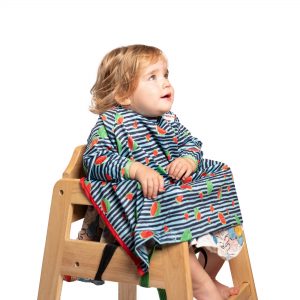 Plates and bowls
There are so many to choose from! Look for some that stick to the table tray with a suction pad in the early days so the food doesn't go overboard! Divider plates are good to separate food groups, Clara prefers her food served in this way and it's a good way to offer different flavours in one meal. We started with bamboo suction bowls and then moved onto these Liewood bowls and divider plates which clean really nicely and look great!
Soft spoons
Soft silicon spoons are easy on your babies' gums and teeth. We always make sure there's a spoon with Clara's food so she can practice using her cutlery for some coordination training.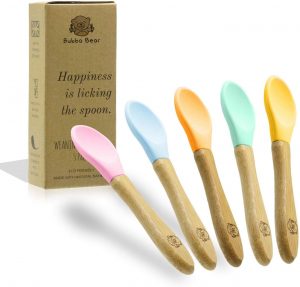 Food Prep and Storage
Ice cube trays are great in the early days. We used a soft tray which makes it much easier to pop out the frozen food when you come to use it. Storage containers with airtight lids stop seepage and will make sure food lasts as long as possible in the fridge (link)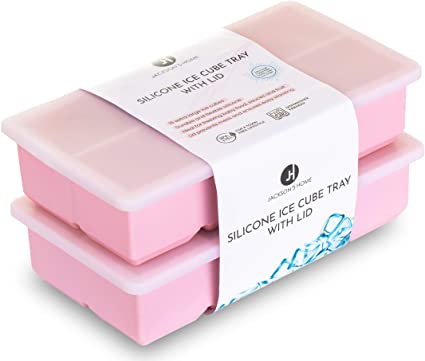 COOKING KIT
Steamer layered pan
Stack em' style hob steamers are a simple and cheap way of steaming veggies, especially if you don't have a combi blender/steamer.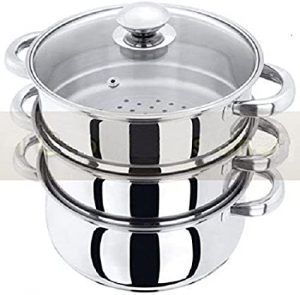 Thermomix
The price means it's a long term investment for family cooking. It really can do everything and I'm still discovering features on it to this day. It can create a weekly shopping list for you and help with meal planning and then prepares and cooks pretty much everything you can think of! (link) If used correctly it becomes the only appliance you need in your kitchen. Take a look here.

Blender
Again, there are so many blender out there that vary massively in price and in most cases you pay for what you get. Cheaper hand held blenders are ok for blending soft small amounts of food but as your dishes become more complex you might want something a little more robust. We found the Beaba blender with built in steamer was the best all rounder!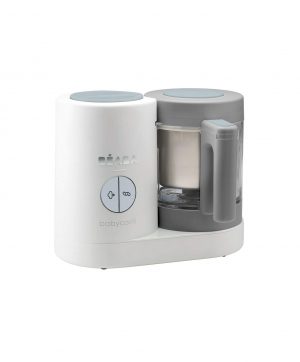 I hope this essential kit which I use everyday helps save you some money and gives you the best possible start to your weaning journey!
Happy Weaning,
Tessa Xx