I have no idea where the time has gone since we got back, the tan has faded but the memories certainly haven't! A holiday quite like no other – now I understanding what my friends meant when they said if you can call it a 'holiday' with kids! Jokes aside, after not going abroad for 2 & a half years & it being Clara's first holiday I wanted to ensure it was a super special trip & we could all enjoy it which we all really did 🙂
Luckily I only had a few days of feeling really sick from the pregnancy, but with Adam around 24/7 meaning I could lie on a sun-lounger when I felt bad it was the best place to be. The sea air, water & not having to cook all day really did help a lot though!
I wanted to share more about our first family holiday for any parents planning a first trip, I had so many questions that I was asking friends with kids for tips before we went who had been away so I hope you find this post helpful.
We chose Dubai because it's somewhere we have had lots of amazing holidays too & always thought it seemed ideal for family's with just so much to do & always feeling so safe. The flight time is around 7 hours so it's not too long but enough to get some sleep in (possible)!
A few flight tips that I found helped us (pictured) & made sure packed I into our hand luggage:
A lightweight stroller that can go in the overhead locker, this was amazing for pushing Clara through the airport & carrying a few of our hand luggage bags in too! I also packed a big banket – it's from a brand called Aden & Anis, their cotton muslin dream blanket which she loved having round her at the airport (forgot how cold it gets) & was ideal for on the plane.
Water bottle & favourite snacks (and LOTS of them) she got a bit overwhelmed when we got to check in & a bag of rice cakes soon calmed her down & kept her still for half an hour when we checked in & got through security.
On the plan for take off I packed a few fruit pouches, which are idea for sucking on to help their ears pop, some parents would give milk which a coffee shop usually give you (for free usually) but as she's dropped all milk feeds & didn't want milk so these pouches were perfect.
Entertainment: I packed a bag of some of her favourite toys & some new ones too. Little animals, lots of sticker books, mini reading books (I got these ones called my first MOG books, she liked putting them in & out of the book case too), crayons, colour paper, mega blocks etc. If your little one loves a tablet/ipad I am sure that's an essential too + any favourite toys that will keep them entertained for a while.
Bag for napping/ night flight: I had a bag of her bedtime routine things; pjs, sleeping bag, muslin, blanket, teddy, bedtime 'Goodnight Moon' book, tooth brush & paste, baby friendly sanitising spray. Make sure you pack enough wet wipes & nappies (I nearly didn't) & a spare pair of clothes especially for the other side if it's hot.
We had a night flight (which ended up being delayed to 11:30pm) so she was VERY tired but refused to sleep in the buggy at the airport, not until we had been in the air for about half an hour, I just think with so much going on she was buzzing & she also will never fall asleep in the buggy for as long as I can remember. But friends have said if they do fall asleep easily in the buggy then a 'Snooze shade' is fab for getting rid of all the bright airport lights!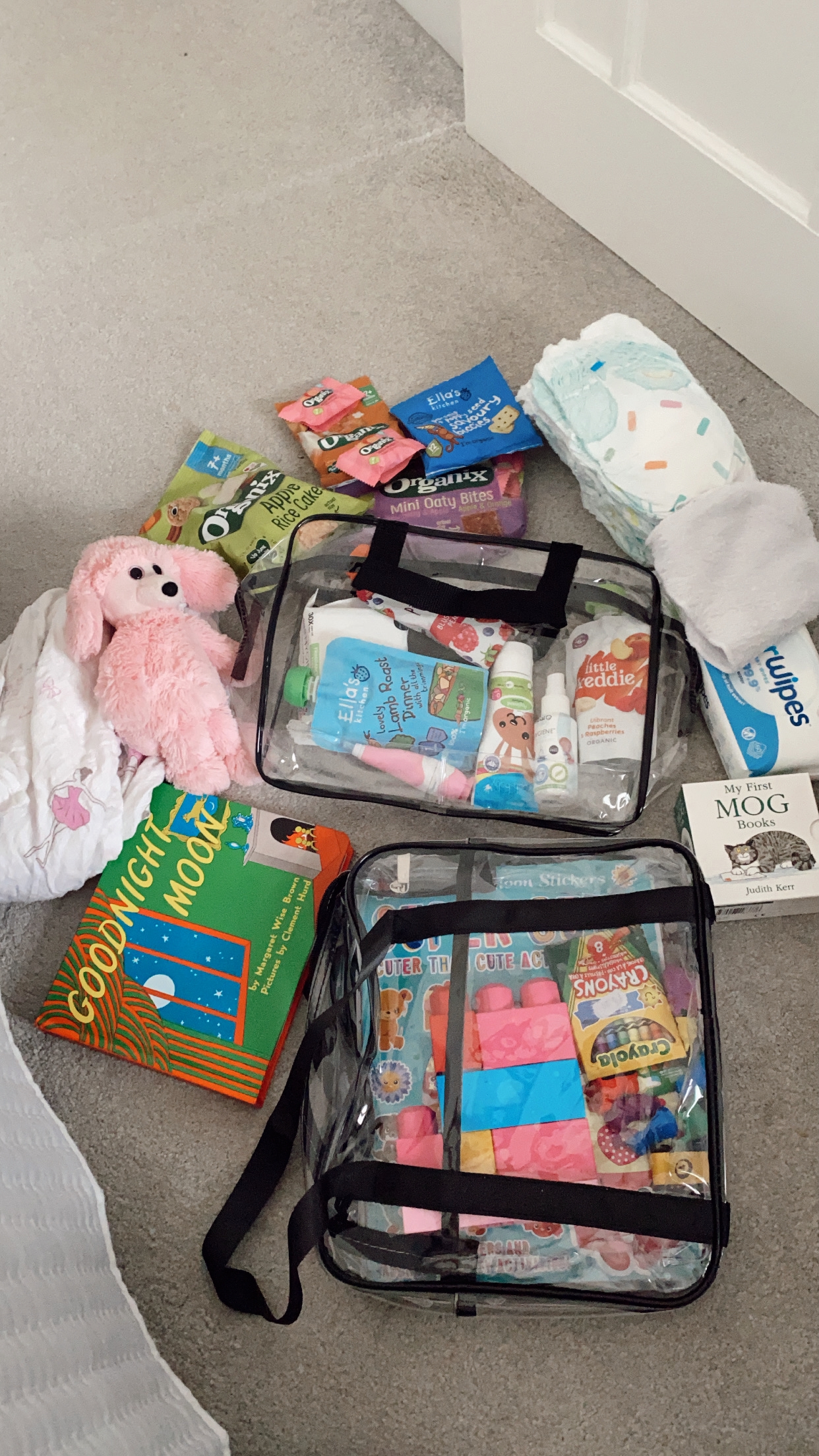 As much as it was way past her bedtime & it meant she had 5 hours sleep compared to a normal 11/12 hours when we arrived, which was their morning, she did sleep for about 4 hours when we got to the hotel around mid day (to be fair we all did)!  It meant we all had a slightly later dinner together but she had a really good sleep that night on Dubai time so it kind of re-set her body clock without us even knowing.  
Most of the holiday we ended up going for dinner at 6:30pm/ 7pm & bedtime at 9/9:30 ish (which I guess was 6:30 UK time) & she was absolutely fine. I did think beforehand she might get tired & then want to sleep in the pram when we were out but she didn't & happily stayed up with us. In hindsight I think a 8/9pm flight time would be idea but saying that every baby/ toddler is so different & it's crazy how easy they adapt, something to be honest I didn't think would be so easy.
Hotel & Exploring
Just to be completely transparent we were invited for 3 nights to stay at the Jumeriah Beach Hotel (ad/press stay) which we were recommend to be the most family friendly and especially ideal for younger kids. Lots of friends have stayed and I can see why, there were soooo many young children there, the rooms were spacious and I was so pleased that the curtains covered the large glass windows and were basically black out blinds! We had then planned to extend the trip and decide to stay in one of their villas which is called the Beit Al Bahar. Oh my gosh it was insane, I was so set on Clara having her own room & us having a sitting room for lots of space I decided to go all out, the irony that she ended up sleeping in our bed the whole week (you have to laugh about these things). But it was so private, spacious, with a private terrace & plunge pool; which was ideal for us when Clara had her daytime nap. There was also a gorgeous swimming pool, bar, restaurant & club room lounge area for all the villas, definitely worth checking it out as there were lots of larger families staying in them.
All of the Jumeriah Beach Hotel areas were kid friendly, things I would never of noticed before I had Clara, like soft pool floor surfaces, not too deep areas, and water slides. There were cinema nights & with the hotel being right on the beach it was ideal for sunset walks when it got cooler & there was a waterpark 'Wild Wadi' & a kids club ideal for slightly older children.
The staff were so friendly & lovely with Clara, they didn't seem to mind at all with the mess at meal times, the menu had lots of options & I liked the fact they offered lots of healthier options too that wasn't just a classic chicken nuggets & chips kids menu! The food is one of my favourite things in Dubai with there being so many amazing options & I love at the Jumeriah group you can go to all their restaurant (using their buggy taxis or their abra boats which Clara loved going on) which is a good deal when you are on a full/half board package. A few favourite new restaurant finds this trip were Fika for lunch (oh my gosh soooo good still dreaming about that food) & French Riviera for dinner. We all also loved the buffet dinner at the Al Qasr too. The only time we left the resort was when we went to the aquarium but other than that there is so much going on you really don't feel like you need to leave the hotels in the group as you can visit all of them at the Madinat which are so easy to get to as I mentioned by buggy, boat or walking.
A few things we learnt..
Try not to go in with too much of a plan or over think things, I was worrying about having a separate sitting room/ sleeping area for Clara but as I said she ended up sleeping so well in between us in our bed we just went with that. Our home routine went out the window & as much as I love routine (not helped by lockdown) it was such a refreshing changed, which made me a lot more laid back since coming home & for my own sanity it was needed.
Suitcase – Pack enough clothes, especially t shirts, we got through so many thanks to breakfast. Lots of sun hats & swimming hats (at least 1 of them they should like to keep on). Sunglasses (Clara loved her Babiators which we got from Little Oak Clothing), also the all in one body sun protector suits were amazing too.
– Sun cream – we used La Roche-posay kids one for Clara & it was great, recommend trying it on their skin before you go away, a friends little boy had a terrible reaction to another brand when they were away & he had to go to hospital so good to check any new products beforehand.
Pack the monitor if you think could be needed, it seemed like a bulky thing to bring but I'm actually so glad we did as it meant we could be outside the room on the terrace & enjoy the sunshine (enabling us to keep the door shut as it was so hot) & then hear when she woke up.
Most of all make sure you enjoy it, it is your holiday too & after the last few years I think it is very well deserved! Take lots of photos to ensure the amazing memories really do last forever & as they grow up so quickly it's the perfect time to get photos & you with them too!
Lots of Love, Tess x