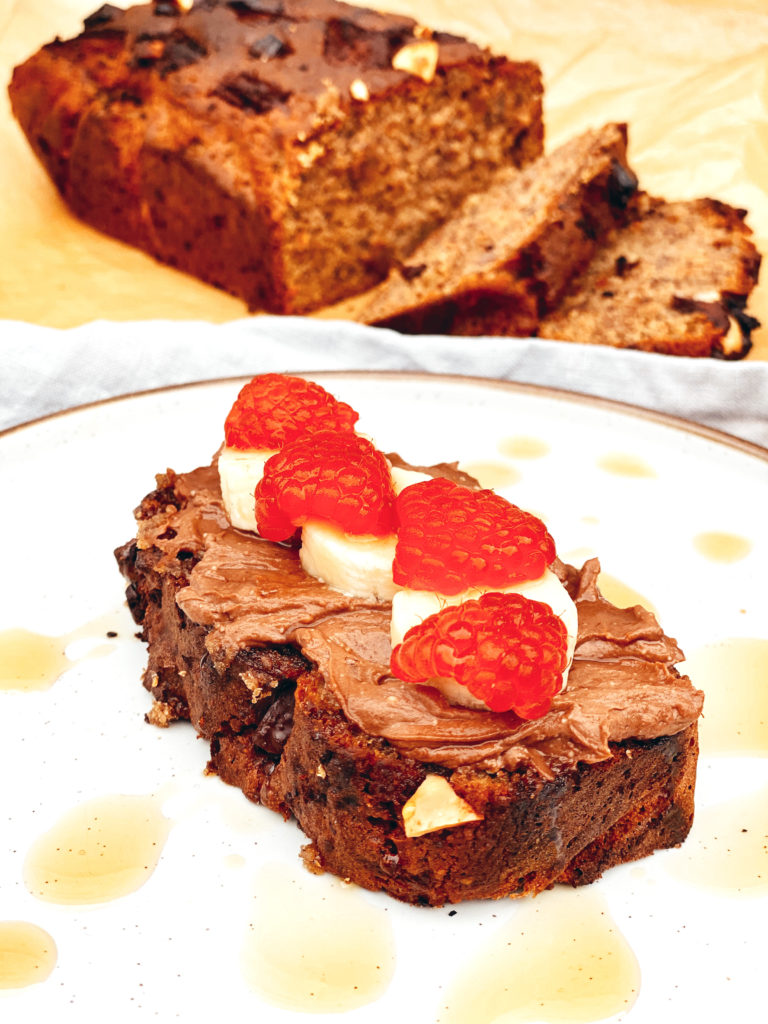 I loveeeee this recipe, super moist & not over sweet, this banana bread is free from gluten, dairy & refined sugar free also 100% vegan!
You can make this with or without the chocolate chips & is ideal for breakfast, snack or pudding.
I have topped this with a dairy free chocolate frosting using Nush natural 'Cheese' Spread which is almond based free from soya & any nasty ingredients. All you need to do is combine 1 pot with 3 tablespoons cocoa powder & 3 tablespoons of maple syrup – fully combine then pop in the fridge.
This is a really quick and easy 1 bowl recipe, no blender just combine all of the ingredients then pop in the oven.
Ingredients
(15cm loaf tin)

Wet ingredients
4 medium sized bananas (Riper the better)
60ml chickpea water
190ml maple syrup
2 teaspoons apple cider vinegar
Dry ingredients
120g Buckwheat flour
150g Almond flour
30g Ground flax & chia seeds (you can just use ground flax or leave out) Holland & Barrett sell this
1 teaspoon GF Bicarbonate of soda
1 teaspoon GF Baking powder
1 tablespoon Cinnamon powder
1/2 teaspoon Pink salt
Chocolate chips or broken up chocolate I used Ombar mylk & dark almond pieces.
Drizzle of maple syrup at the end (optional)
Method
1. Pre heat the oven to 180*c
2. Using a fork, mash the banana's until smooth then add in the dry ingredients & combine
3. Finally add in the wet ingredients until fully combined & smooth.  Mix in the crushed chocolate or chocolate chips if you wish to use.
4. Add baking sheet paper into the loaf time, pour in the mixture & place in the middle of the oven, let cook for 45 minutes/ until done (a good tip is if you insert a kebab stick if it's cooked it will come out clean.
Chocolate frosting
1 tub Nush 'cheese' spread
3 tablespoons cocoa powder
3 tablespoons maple syrup
Method, fully combine using a spoon (try not to eat it all whilst you are are waiting for the banana bread to cook) haha!
For the topping, whilst the banana bread is cooking you can make the frosting combining the above ingredients & leave in fridge until ready to serve. Let the bread cool for 30 minute before slicing. I also added some slices of banana & halved raspberries on top too with a drizzle of maple syrup.
Hope you enjoy the recipe, don't forgot to tag me so I can see your creation 🙂
Xx